A recent Montclair Write Group writing prompt got me thinking: Now and Then.
I've been thinking about the little things in life these days. Nothing deep or philosophical, no life-altering moments where the world comes into crisp focus. I've been thinking about socks, coffee cups and ink pens.  For that prompt, I wrote about my childhood experiences of walking and with trees.  Today, I write about laptop covers.
I haven't taken my laptop out to a coffeeshop in years.  Partially because I'm more productive in coffee shops when I write longhand.  Second, my laptop is old.  I've considered a new one for almost a year, but this old(er) laptop is practical for what I need it to do. It's secondary to my main desktop computer. It's good enough for typing in my longhand text, internet searches and getting sucked into YouTube.
When I go out to coffeeshops now, laptops are sleeker, but the covers have not changed.   Some people blast them with activist stickers, adorn them with drawings or custom cover sleeves.  Some people leave them boldly plain.  What does this say about them?
What does this say about me?
These seven years later, nothing has changed on my laptop. I'm not a plain person, so having a blank laptop bores me.  I'm all about showing people who I am at a glance. That's the writer in me: Show, don't tell.
The first thing I expect you'll notice is the Penn State bumper sticker. Yes, a bumper sticker meant for cars, not laptops. It's proud marketing by the alumni association. Stickers like this are free at  football away game pep rally, along with buttons, notepads and pom-poms.  I'm proud of my school, my education, and of all the things that happened there that led me to right here. It's an instant connection with anyone.
However, it was not the first sticker I put on.  That honor belongs to the black NaNoWriMo from 2014. I won it in a 20-minutes Word Sprint, and I really, really wanted that sticker. It would be the first public proof and Validation that I Am A Writer. Besides, I wanted the cute coffee cup awake-o-meter.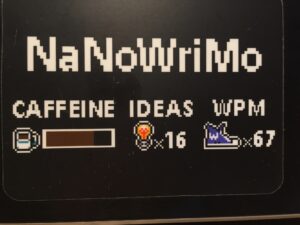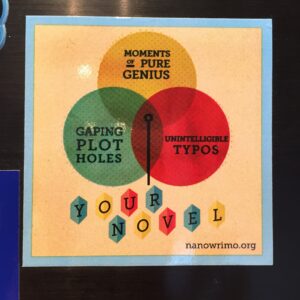 The square NaNoWriMo sticker I earned in a Word Sprint in 2015, my second NaNo year. The pale retro colors appealed to the vintage scrapbooker in me. Once again, it's my public Validation. Yes, World, I am a writer. See?
I no longer participate in NaNoWriMo because I no longer need validation. I have books published now; I didn't then.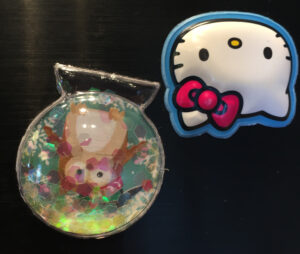 The most important stickers are closest to me: Hello Kitty and shaker style glitter owl. My husband bought me those for a touch of whimsy in my life.
I struggled with the placement of both puffy stickers. Despite the directionally unambiguous placement, I kept trying opening the laptop backwards, as in, with the stickers facing me. They're important of me so they must face me, right? Wrong. No matter how many times I took me laptop out, my brain hit the backwards Reset button and I opened it backwards. I finally put Hello Kitty facing me so looking at her gives me the direction to open my laptop. Seriously, I still need to do that today.
Hello Kitty is iconic today as in my childhood. The memories swirl around me of sticker shopping with Mom, small diaries with key locks and middle school notebooks. The winter owl, snuggly in a tassle winter cap, inside a snowglobe with glitter shaker snowflakes tossing around him is just darn cute. Owls are still one of the hottest critters in scrapbooking and planners, and I'm all about trendy.
My husband still buys me quirky, cutesy stickers and knickknacks that make me smile with a touch of whimsy. Everyone should have a reminder of fun in their lives.
What about you? What's your personality? My cover shows love, school pride, whimsy and a kickass writer typing on the keyboard behind it. Now, as then, there is open space to work with.