"We know what we are, but know not what we may be."~William Shakespeare, English poet
Today is a momentous Throwback Thursday:
July 21, 2009 is the day of my first Facebook post.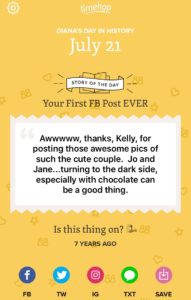 I was with my Journal Club writerfriends at the time, and we were discussing chocolate. Yep, that sums it up. Writing and chocolate: what better Facebook post than that to mark my entry into the social media world?
This date marks a good day overall in my writing history. Going through my Timehop app…
6 Years Ago (Weds)
I attended one of my first Deadwood Writers Group meetings. I know that because I checked into Brann's restaurant across the street where we went for food and drinks afterwards. We fell out of that after-critique socializing pretty much since then, reminding me today that I miss it.
4 Years Ago (Sat)
I was in Toronto for the first-ever international stop on the Sketchbook Project Tour. Toronto was somewhat midway between me in Michigan and my friend in New York. Since we both wanted to see the city, we met there. My sketchbook was on tour, so she got to see it in person. That sketchbook was a product of my art and writing. The Teddy Bear Companion Book is a story about is about the lessons a teddy bear can teach us.
3 Years Ago (Sun)
My Tweet was a photo of a book by an author I know that I bought at Sandmeyer's Bookstore. Chicago was the Midwest stop of The Sketchbook Project Tour. That same friend flew in from New York, and we drove to Chicago to see my sketchbook that year and tour the city.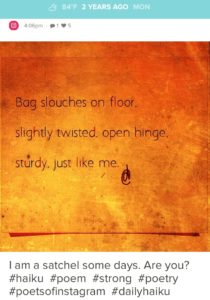 2 Years Ago (Mon)
I posted a haiku on Instagram, probably one of my first because I wasn't as active there as I am now.  There are some hashtags I use now but didn't use then, and I never went back to update all of my earliest posts. They stand the test of time in my photo feed as is.
My blog post that day was about grammar set to music and my newfound editorship for Deadwood Writers Voices.
1 Year Ago (Tue)
Last year, I was all about eBooks. There was a great blogpost I tweeted by Kristine Rusch about the pros and cons of writers culturally dating their stories. I also became the Mayor of my local 7-Eleven. I'm not sure if that's something to celebrate or not….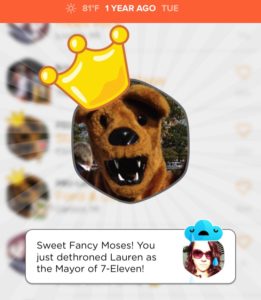 This Year (a #tbt on a Thursday!)
I'm in my local Starbucks–I'm the Mayor here as well–writing with a friend I met through Swarm/Foursquare. She's working on her documentary script, and I'm blogging. Working on those draft blog posts per my ROW80 goals. I pulled out my Happy Planner, told her how I am using it to schedule my social media and showed her one of the template I created: how to plan and keep track of a blog post series. So far, the social media aspect is working to keep me on track–or point out when I'm not on track. After the blog is fine-tuned, I'll turn to similar templates for my writing schedule.
Tonight is my Ann Arbor writers networking meeting. Sometimes they serve chocolate. That would bring my #tbt full circle.