A gardener by any means I am not, but I cultivate a deep green houseplant forest.
.
The lawn art my neighbors accomplish humbles me, but endless cycle of pulling weeds is not worth it. Houseplants are as green as my thumb gets, and I'm quite adept at keeping my plants thriving.
Plants hold a sentimental and practical meaning for me: they don't die like flowers do.  In college, my friend brought me a plant when I was admitted into the hospital.  I still have that plant.  Over the years, he has been trimmed, cut and shared as gifts to my friends, including the dear who originally presented it to me.  She calls him Thor.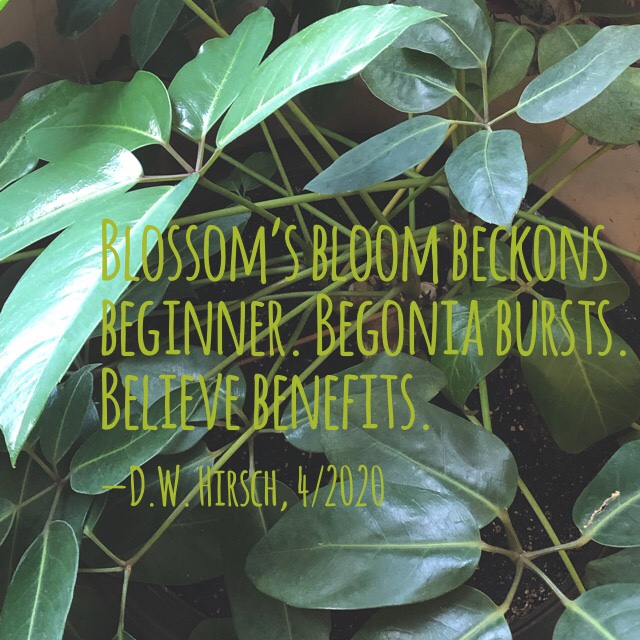 Tree was a gift from a friend who tried to brighten my awful work environment 22 years ago.  Being a quirky, smarmy guy, he sent me an Umbrella Tree.  He chose it because "tree" was in the name of the plant.  No windowsill plant here.  This imposing green stem with thick flapping leaves was large enough to be forceful and obnoxious in my open office.  I adore him for that. 
I named her Tree because she was one, despite being a houseplant.  Tree has been a part of my life since then, moving from state to state and house to house since then, long after that awful work situation passed.
Tree was once on life support–two or three times, actually, but we're not counting–healed by heartbreaking action.  She grew a second trunk and stopped being a tall tree but a fluffy, failing bush.  I consulted with a garden store before I took action, and even with the knowledge of experts, the serious grooming needed scared me. My heart broke as I chopped off the side trunk, but the twin had to be severed so the one could grow strong. Skinny and scraggly afterward, I feared I had truly killed her this time.
Tree is resilient and grows strong today, as shown in Haiku B.  She is still more fluffy that tall, but one of her cutlings blossomed into a skyscraper I call Sprout.
Curious about their ongoing growth and transformations?  Follow my Instagram hashtag #TheWritersTree to travel along their journey of life and death and life.
"B" sure to visit other blogs travelling along the AtoZChallenge to read their journeys, "B"ginnings and all.