If we were having coffee….
Glad you could meet, especially now that I-275 North is open. I like this Orchard Lake Rd. Starbucks because it's another Clover location. I can't stay too long. I just came from a Saturday work shift subbing for someone with Labor Day plans. We don't have any, so why not? We drove up here to have lunch at Ginopolis. Why?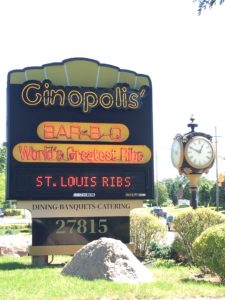 We're a sucker for signs that read "Best in the area" or "Awesome Eats," so when I showed my husband the sign for "World's Greatest Ribs," we had to go. The Montgomery Inn BBQ sauce is what they're famous for. The sauce is deep and rich, smoky and sweet, and it's well worth the praise on the sign. There's a wall of photos inside from famous visitors attesting to that fact. There's a lot of local Detroit athletes, you'd expect, but there's photos of Bob Hope–saw him twice!–Burt Reynolds and Dionne Warwick. You should definitely go. The cornbread tastes baked like a vanilla muffin.
What did I do this week that was writing-related? Well, I've been pseudo-productive there. I told you last week that I tore apart my ROW80 goals to just one: my blog posts. I wrote some current posts and had a ton of fun doing that. My live freewrite post against Writers Block was an incredible exercise for me. It's scary, but you should try it if you dare.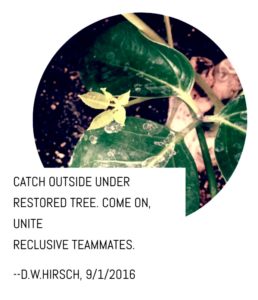 I'm making peace with the fact that I'm going to have to let go of some past blog stuff if I want to keep that schedule moving forward. Frustrating. I like to finish things. Obsessive, I guess, or my inner Virgo.
Speaking of, my birthday month started Thursday, and we saw Finding Dory at the Penn. If you haven't seen it, bring tissues. The last Music in the Park was last night with the usual closing band, my favorite Steve King and the Dittilies. They mix pop, rock and oldies with jokes in between songs. Someone brought beach balls to the park, so there were about two dozen beach balls bopping around the crowd all over the lawn. The whole crowd was into it. Nothing says fun like beach balls.
Oh, look at the time. We're going home to watch the first Penn State football game. Next week, we'll be watching in person. Since my birthday is Friday, I wanted to see the game against Pitt, the first time they're on our schedule since…well…since I was in college. The game's in Pittsburgh, my childhood hometown, and the hotel I found is unexpectedly along my old neighborhood's bus route. So fun!
Walk with me to the car. I'm sorry to drink and run, but tell me how your week's been.
Here's where you can find everyone else's ROW80 updates.
Finish the Weekend Coffee Share with these folks.