If we were having coffee….
Hello! Isn't this a nice Starbucks? It's a Clover store, and they still have my Nicaragua Macarena. That's not it's real name, of course, but a barista back in Michigan couldn't pronounce it, so that's what she called this blend. These Cranford baristas don't know much about these Reserve coffees, so I recommend a tea or this Macarena.
This was our first 4th of July in New Jersey. When we lived in Michigan, we crossed the Detroit River to celebrate the US holiday in Windsor, Canada. This year, we're celebrating in our country. A clerk in the Quick Chek recommended the fireworks in Union's Biertuempfel Park. I know, that's a mouthful and I still don't know if I pronounced it right. We got close enough to see the ground launches and feel the Boom! in our chests. The finale was loud and bright, and people on the streets around us clapped afterwards. That's the sign of a great light show.
The house is still not unpacked. The shelves and cabinets are crusted with 30 years of someone else's dirt. It soaked deep into the wood. Gross! Yes, exclamation point. My ankle is almost healed, so I'm now able to do more work. I've gone through three 6-roll packages of paper towels, a 5-pack of sponges and bottles of various cleaners.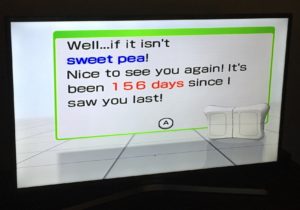 My husband set up our new TV and my WiiFit yesterday. I'm excited to use my exercise game again. This time, I'm easing into the exercise. The last time I took an extended break from my WiiFit, I jumped into my typical 60-minute step program. Talk about sore knees and thighs the next day.
Hey, let's talk writing. Have you been productive this week? I feel accomplished. I wrote three blogposts that I published on schedule. I also finished reading my first book in fo-ev-ah and posted a review on Goodreads. I noticed how few people I had in my list, so I connected to social media networks. I now have 82 Goodreads Friends to inspire me. Feel free to join me over there.
This week is my Montclair Memoir2 meeting, so I have to work on my piece to bring for critique. I'm also looking to set aside time to review my ROW80 Round 3 goals. I'm telling you about all this to keep me accountable.
So, what's motivated you this week?