If we were having coffee….
Thanks for coming over. You're my first guest in our new house because we're still unpacking, as you can tell. I cleaned off the table for you, a bit. Just push my laptop aside.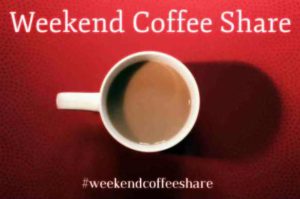 The kitchen's still a mess–makes me think if we need all these plates we have–but our cups are unpacked. I don't want you to trip, so let me get you something. I'm having the last Sheetz House blend K-Cup, unless you want it. I have other flavors plus loose leaf black tea.
The best news this week is about my ankle. Physical therapy ended Friday. My movement, strength and flexibility are back, as good as or best as it will be. All that's left is one follow-up with my ankle ortho to check on the fracture, maybe a final X-Ray, hen I should be done with this whole thing two months after moving in to the house.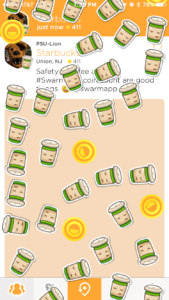 I also hit 31,000 Swarm check-ins. I know from past experience that you get extra points for hitting those thousand marks, so I planned it to get the max points possible. I planned that moment for a whole week. That check-in got me: 100 coin points for an even 1000 check-in; 15 for my weekly streak at the Route 22 Starbucks; 15 for my overall weekly streak at coffee shops; 5 for attaching a photo and 2 point coins for sharing the check-in on social media. That's 137 points, and I used my 3x Joey Beans sticker bonus. I got 411 points, but it's not my highest. If I was Mayor there, maybe. Still, it's fun to watch all those coins fall into my app wallet and hear the plunk-plunk-plunk-plunk-plunk of 411 coins, and then to see all those coffee cup stickers fly on the screen.
.
.
My writing is getting exciting. I'm in this mad rush to edit and publish my MomMemoir in time for the annual August Star Trek convention in Las Vegas. I went back to Fiverr for editing and cover services. This is the second and the last time I'm going to work on this book, and I'm making it the best product it can be. My former graphic designer is still doing gigs, which is what projects on the site are called, so I purchased a package that includes files I can use for eBooks and separate ones formatted for print publications. His gig starts at $5, but I paid $40 for the extra options I wanted.
I was skeptical the first time I heard of Fiverr. All kinds of services offered for $5. Are these people experts or hawkers? Are they industry professionals? Professors? Retired? Full-time freelancers? Part-timers who work a day job? Really, what can I get for 500 pennies?
What I've received so far is professional customer service, which you know is a big,