If we were having coffee….
Hey, glad you could join me here outside Philly. Hope you didn't hit too much holiday traffic. It's a cozy Starbucks, isn't it? I'm chillin' with a Café Vanilla Frapp. The baristas know how to make a good one, sweet and thick. Of the two Starbucks in the area, I like this store best, and not just because this is where my husband and I have farewell coffee with his folks when we leave. But we don't leave like we used to anymore.
We're down here in North Wales to visiting my in-laws. Much shorter than our drive from Michigan. *smiles* No turnpike, just a zip down Rt. 202 through antiquey towns of Lambertville and New Hope, with a toll at the New Jersey bridge, of course. The weather was perfect for last night's drive, and it looks to be the same for today's barbeque. His dad is grilling hot dogs and hamburgers, and at my suggestion, he's also throwing some veggies on there. I adore grilled carrots and zucchini, brushed with olive oil, smoky and crunchy.
I know, I'm still wearing my boot. My fractured ankle is healing delightfully, and my physical therapist says I don't need to wear this all day anymore. I have it on now because Lucky is here, the rambunctious, three year old puppy, who has been known to jump on me. A lot. It's best I keep my ankle supported rather than risk injuring the fractured ankle.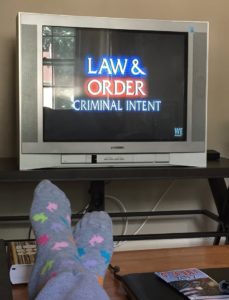 Back in New Jersey, Comcast cable finally set up. First program I watched? Law & Order Criminal Intent. It's calming to have familiar programs as background noise again. I can't write in silence. The nothingness creeps me out.
I'm in a new critique group, by the way. It's still with the Montclair Write Group, just Memoir1 instead of Memoir2. There's a lot of people on vacation and a lot of new people interested. A bit of shuffling was needed to keep the groups balanced, and it never hurts to have a new set of eyes reviewing my work.
The 4th Thursday of every month, the Write Group hosts their "Free-for-alls for Writers" event. This week, memoir author Lorraine Ash presented her workshop on The Four A's of Memoir. Those elements are Assault, Abyss, Awareness and Action. She read examples from published memoirs, but the examples rambled on an on, and they were books I'd never read anyway. Lorraine was dynamic when she spoke, and those moments were educational and valuable. Eight of us went out afterwards to Manny's Diner, and the discussions over dinner were much more intriguing. I was surprised how happenin' downtown Montclair is on a Thursday evening.
All this talk of memoir and writing makes me think of the upcoming Round 3 of Round of Words in 80 Days. What do I want to accomplish in my writing life for the third quarter of 2017?
How are you getting ready for this July 4th weekend and the second half of 2017?