"Move out of your comfort zone; you can only grow if you are willing to feel awkward and uncomfortable."~Brian Tracy, American author
Now that it's officially official, here's the Big News: we are moving to New Jersey.
More correctly, we are moving back to New Jersey. My husband and I met in NJ at the turn of the century. From there, our life together moved to Delaware and then to Michigan. As of October 1, he accepted a new position within his company at corporate headquarters in NJ, so we're heading back to the East Coast.
Thank goodness we remain in the right time zone.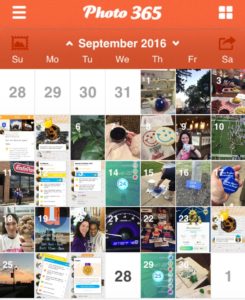 Leading up to that, September 2016 was a good birthday month. Those memories include:
• Friends and scrapbooking
• Sunsets and Swarm Mayorships
• Painting pottery at Creatopia
• Steve King and the Dittlies in Kellogg Park
• Birthday massage at Spa Agio
• Two Penn State football games and lots of ice cream
.
.
Some of these activities will be the last time I do them.
We're not moving right away–he has a flexible schedule right now and we have houses to buy and sell–but I've begun saying goodbye and doing all those "we should do this more often" things.
We both have a Michigan bucket list of things we want to do. There's eating at Cariera's Cucina Italiana again, which is the first restaurant we dined at in our house-hunting adventures here. A friend mentioned that Mill Race Village in Northville was a good place to hunt PokemonGO critters, so this could be a PokeDate while the weather is still good.
My list includes several coffee shops, particularly Anthropology Coffee in downtown Detroit. I hope I don't love it. I want to revisit Goldfish Tea in Royal Oak to relax, read or write there. Or do all three.
Losing my writing groups and network of writerly friends breaks my heart. I hope to find new groups and connections out East, but while I'm here, I'm taking nothing for granted, especially these treasured folks. If something is going to be the last time I do it, then I'm gonna make it a damn good experience.