"People may hear your words, but they feel your attitude."~John C. Maxwell, American clergyman
My month began and ended with clouds.
I remember those two moments specifically because of a comment my husband made. "Look at that sky," he said, whipping out his phone to take a picture of the heavenly clouds. "That's just like the one before, at home."
I remembered that other cloudscape, but I forgot that it happened only 30 days prior. Imagine that. I wouldn't have realized that without my Photo365 app to capture images of the day.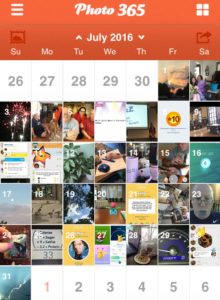 I'm a scrapbooker. That means I take way too many pictures. My phone's camera roll is in the upper 5-digits. Taking way too many pictures does ensure that every snippet of life is captured, but mine is a quantity that took 5+ hours to back up to my external hard drive this weekend.
Note to everyone: back up your computer, laptop and smartphone. No excuses; just do it. You're welcome.
Okay, pardon that squirrel moment. Back to photos. My husband's commented that I take too many photos of an event and don't stop and just be in the event. He's right. My mind goes back to the Rose Bowl game we went to in 2009. I was so busy taking photos of the Penn State band and whatever else was there that I missed seeing the Nittany Lion mascot on the parade float. It breaks my heart to think of that once-in-a-lifetime moment.  How did I let that happen? Unfortunately, I let it happen way too easily.
So I stop to look at clouds. I permit myself a moment or three to take photos and then I put my camera/phone away and just Be. It's a hard thing to do. Fireworks are a harder thing to stay away from to relive the moment of swooshing and booming. Of course, if you're too busy filming it, a rewind only lets you live it.
Screenshots are a big thing for me now. I plan to have them all printed out and scrapbook them, but…well, let's just leave it at "plan." It's an easy thing to do–it takes but 5 seconds–and I get on with my life while still capturing it.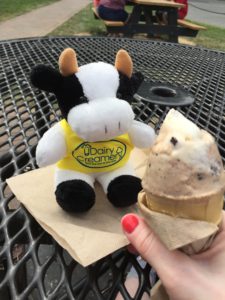 In July, my husband and I spent family time, both at home with my in-laws and locally here in Michigan. We went out for coffee, to dinner and stayed at home together. Together is a nice place to be with family. And friends. I saw a dear college friend while in Philly. Those were photo-worthy moments.  As was the ice cream at the University of Delaware's UDairy Creamery.
I caught the fever and downloaded PokemonGO game. If you've been living under a rock or were stranded on an island for the past month, it's a throwback game to the Pokémon video and card games of the 1990s and early 2000s. In this latest incarnation of video game, you catch critters inside a Pokeball and then fight them at gyms to gain experience points and get higher level goodies. You can read the rest of opinions and debates elsewhere, but I'm here to say that I like it. From July 12 to today, I am Level 11, halfway to Level 12, and a member of Team Mystic. How much will I play it in the future? Who knows? It's the latest cool thing out there, but will I open the app much in, say, December? There was a time I couldn't get enough of Angry Birds, but now I only remember to play it when there's an update. I'm having fun, not tripping over or running into anything, so I'll keep catching them. The photos remind me of the intriguing places I've seen Pokémon, the levels I attained and when I caught Pikachu.
Social media is a scary thing, and my Twitter and Instagram accounts are delicious dumping grounds for my photos. My Timehop app is connected to my social media accounts, and it showed me that this month 7 years ago I joined Facebook and what the first photo I posted there was. Look at July 26 to see what that was.
Swarm is a geolocation-based game, similar to checking in at a place on Facebook or tagging a location on Instagram. This is a stand-alone game where you checkin to places you visit, and if you go there more than anyone else in the world, you become Mayor of that place and get coins for that honor. This can be a fierce battle between you an friends or strangers. Note the image on July 30. The Shark of Death. Shark! Chomp!
Let's not forget writing. I write in coffeeshops, and three are featured in my photos here. It's a testament to my belief in myself, my writing and the knowledge that getting out of the house makes me more productive. I now have three writers groups that I'm active in, and they all give me something different. I'm lucky, and trust me, I know it.
I saw Star Trek Beyond with my husband. My baby turned 225K this month. My tree grows in Canton. I sold scrapbook supplies at a yard sale and made almost enough money for a massage. It's not such a bad thing to take pictures to remember these little moments.
As long as you remember to stop and look at the clouds.