"Inside each of us, there is the seed of both good and evil. Once cannot exist without the other."~Eric Burdon, British musician
Oh my gosh!  Thank GOODness I got the Good Owlcrate box.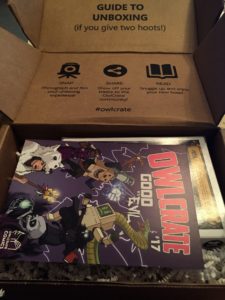 .
.
.
The July theme was "Good vs. Evil," and what a twist on that. Instead of a mix of good/evil themed items, each subscriber got a Good box or an Evil box. I would have been soooooooo disappointed with the Evil box, so Good is good!
It took me, honestly, until reading the card afterwards to get the clever theme. I'm not used to writing "good" about Owlcrate boxes, but lately, I have been surprised.
.
.
.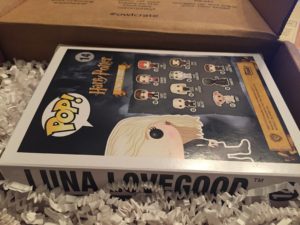 .
.
It didn't start off well. The first peek inside the box did not fill me with hope. Oh, yippee, another Funko POP. Oh, yippee, another Harry Potter thing. Oh, yippee, Luna Lovegood. She's not my favorite character, but I never disliked her.
.
.
.
Remember, I didn't catch the Owlcrate theme yet. This will be important later.
.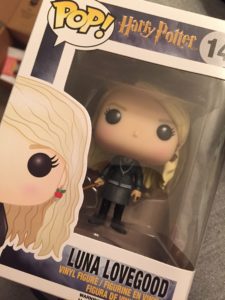 She grew on me after I looked I looked at the back and saw what other characters I could have gotten. "I would have preferred getting Sirius Black," I said to my husband who was sitting on the couch as I opened this. "Ew. At least I didn't get Dobby."
.
.
A small, brown box was next. Oh, yippee, another Vector Engraving piece of jewelry. I'm really tired of seeing repeat vendors. I get it, there's probably some promotional thing going on between Owlcrate and their featured vendors, but this is getting old. Vector Engraving does some outstanding detailed work–the Tardis pin I recived in the February box was incredible and will make my friend's Christmas super-sweet–but still, the same thing from the same company 6 months ago. I was not expecting what was inside, the crème de la crème of the box: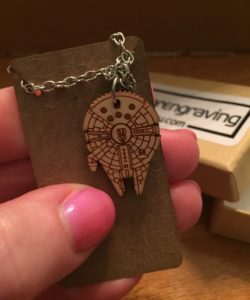 A Millennium Falcon necklace.
*swoon*
I showed it to my husband. "Cool," he said, and not in that dismissive way men say things to feign interest in what women say. That was a serious, full-out cooooooool.
I'm a Star Wars fan from the 70's. Yes, I know that dates me, but the movies are worth suggesting my age. Take a cloer look at this pictures; the details are amazing. I couldn't figure out the good and evil part of this, but Han Solo and Chewbacca were good and scoundrels, so it fit the theme. Doesn't matter how, really, because I adore this. I didn't even put that in the to-put-back-in-the-box-until-later pile. Nope. I set on the side to wear ASAP!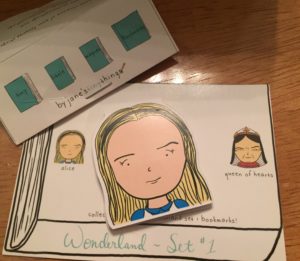 Next came a magnetic bookmark. Oh, yippee, another magnetic bookmark. I don't think I have enough books for all the magnetic bookmarks I now have. AT least this bookmark from Jane's Tiny Things feels sturdier than last month's Princess-Prince-carriage set by Crafted Van. I don't grasp how Owlcrate comes up with their item descriptions. The promo card inside described "this adorable Alice magnet," and to me, it's creepy.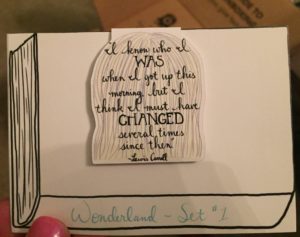 These boxes contain a lot of creepy items that are intended to be pleasant, but take a look at Alice's squinty eyes. She looks possessed, and not in that happy drug-induced Wonderland way. The quote on the back of her head is cool, so if I use this, I'll keep it turned backwards.
"At least I didn't get the Queen of Hearts," I said to my husband. That Queen looks nightmarishly angry and creepy.
Then there was a bright and beautiful, useful item: a quote sticker based on the book Illuminae. I haven't read it yet, which probably makes me a pariah in the YA Bookstagram world, but the quote makes me want to run out and buy it and put it at the top of my To Read Next pile. "You have me until the last star in the galaxy dies, you have me."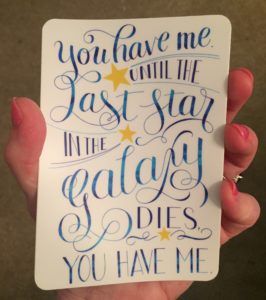 "Just like you and me," I said to my husband, following with that Happy Couple awwwwww.
"I'm glad you're liking your box," he said. "Sometimes you don't."
"I know, they've been surpringly good lately," I replied. I can use this. I'll stick it on a dashboard in my Happy Planner so I can look at it. The sticker has a nice texture, a sturdy plastic feel, like flexible vinyl, so this will survive my planner abuse. Looking at it and feeling the bumpily texture makes me all kinds of happy.
Next was a coloring book. I'm not into the whole adult coloring book scene. I've done detail with my Zentangle art. I've colored in tiny spaces. Sometimes filling those teeny weeny spaces becomes tedious and stress-full, so to achieve that delicious black/white contrast, I own 05 and 08-size Micron pens.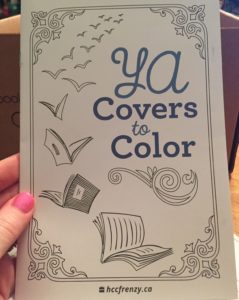 Anyway, this was a coloring book based on YA book covers, including the promo bookmark for Every Hidden Thing by Kenneth Oppel included in the box. We discussed just such a coloring book at my Ann Arbor writer's group last week, about how Barnes & Noble did that as part of their B-Fest Teen Book Festival in June, so I figured this was just some leftover promo material. Cute idea, but it seemed like a cheap filler, one that didn't even include any colored pencils or crayons.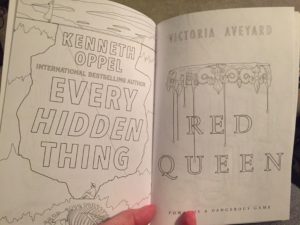 I flipped through, unimpressed, until I saw the back cover. "I spent my life folded between the pages of book" said by author Tahereh Mafi. That quote is so me. This back cover is sturdier than the flimsy coloring pages where I'm sure colors of anything will bleed through and it's blank on the back side.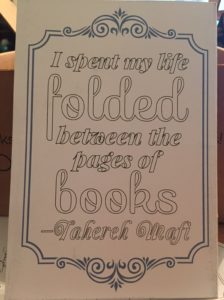 .
.
This will be the dashboard for my planner that I'll put the sticker on the back. I tore that off immediately and set it aside with my necklace. Maybe I can give the rest of the book to someone.
Finally, the book. This Savage Song by Victoria Schwab came with an signed–actually, just initialed–bookplate and a letter by the author.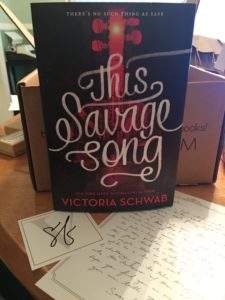 I don't understand the appeal of these letters. It's not like it's a personally handwritten letter; they're just the ramblings of the writer about their inspiration, a self-serving book summary or just a "thanks for being an Owlcrate subscriber" note. These start out as real letters that Owlcrate folks photocopy onto a sturdy cardstock. This note took a good two minutes under a bright light with a magnifying glass to peruse. This woman has handwriting a doctor couldn't read. Even her autograph is a squiggle of two initials, I think. The note would have been better typed up rather than the purity of keeping to the authentic. I appreciate authentic. I also appreciate readability.
The book sounds interesting. Condensed from the blurb on the inside jacket: "Kate Harker wants to be as ruthless as her father. August Flynn wants to be human. Their city is divided. their city is crumbling. Kate and August are the only two who can see both sides.But how do you decide to be a hero or a villain when it's hard to tell which is which?" I'm intrigued. This is added to my TBR book pile. Not sure where on the list it falls, but it's a good addition to that list.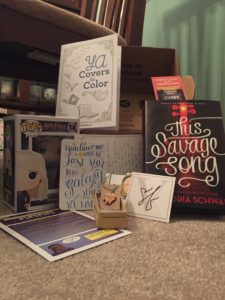 Here's my grading breakdown:
Funko POP: B
Necklace: A+
Bookmark: B-
Quote sticker: A
Coloring book: B+
The Book: B+ (only because I haven't read it yet, but looks promising)
I finally read the spoiler card, and that's when I realized the Evil box had different stuff than the good box. I looked online for unboxings of the Evil Box. That one included a Draco Malfoy or Dementor Funko (comparible to my Luna, but I'm happier with her); Death Star necklace (unimpressive); The Queen of Hearts bookmark (creepy!); small, circle quote "Am I not merciful?" also from Illuminae (very unimpressive); and the same coloring and hardcover books. Overall, the box was a not-bad one this month, and Good far outweighed Evil.
Except I could have been stuck receiving a Dobby Funko. That was the other Good box choice. *Whew* Dodged that disaster.