The key to spreading holiday joy is a jingle bell necklace.
December 2017
Our first Christmas back in New Jersey
My husband and I watch the family of elves walk into the coffee shop.  The three adults are dressed in festive holiday wear: red fur boa, red and green button-down tops, spotted green skirts, each carrying an LED lite up wand.  They are elves right down to the pointy toe red shoes.
The two young girls—I'd say 10 years old, but I'm terrible with ages—are really into it. They're dressed in flouncy tulle skirts, elven helpers floating on frills.  Part of the excitement must be the dress up and wearing makeup, even eye shadow.  Perhaps part of it is helping mommy and being a big girl.  I like to think less selfish thoughts: they're enjoying seeing the smiling faces.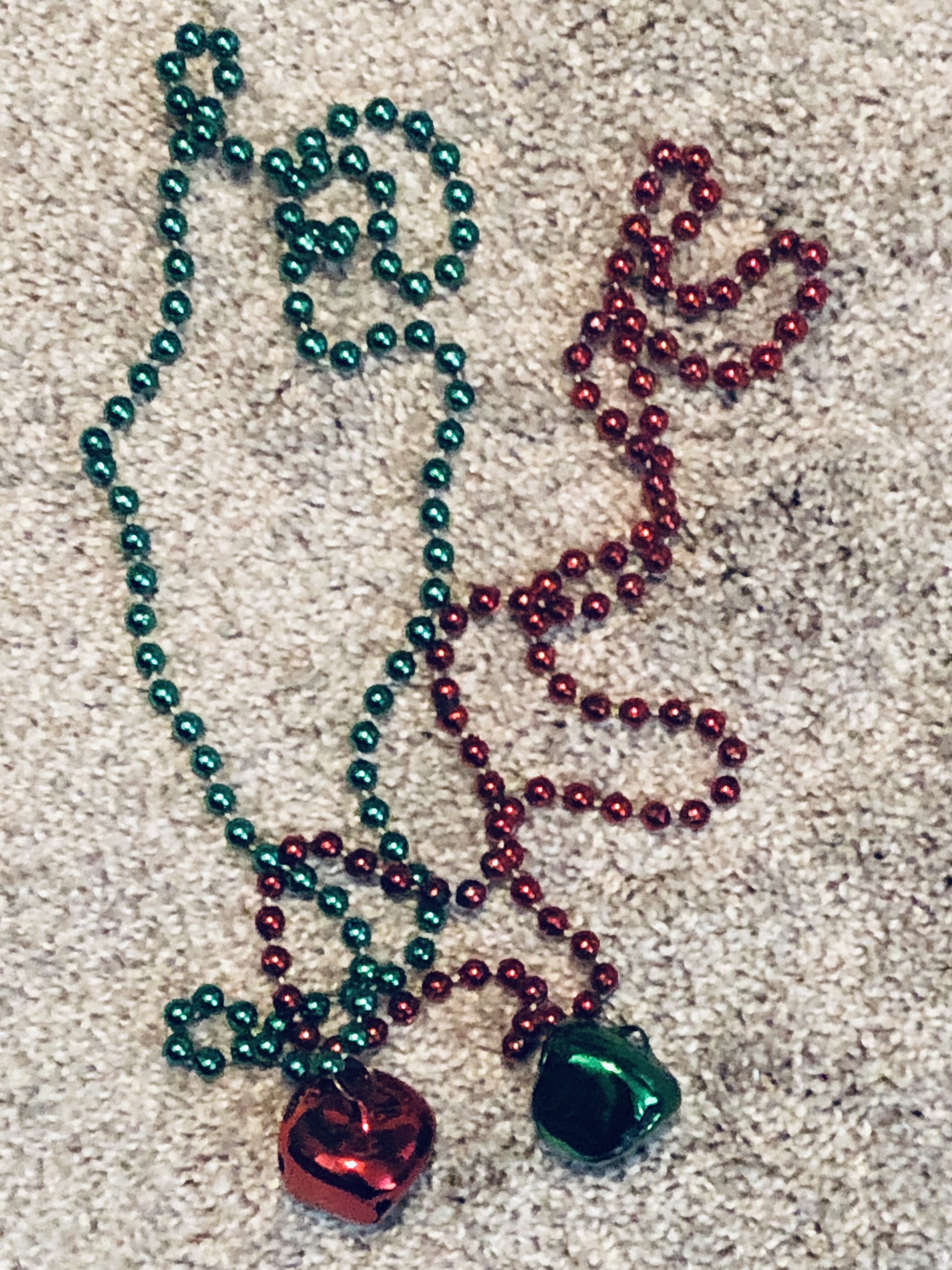 They brighten up this stark yet hip and trendy coffee shop.  The floor is diner-white hexagons.  The white brick painted walls surround this cavern of white tables, square and just big enough for dueling laptops, phone and coffee cup. The shop is brightened by smiles carrying candy canes. It's kind that the shop owners let them come in. Of course, they're not soliciting or selling–nothing except joy–so maybe that makes it okay.
They pass out jingle bells necklaces, the good dollar store quality.  No pushing, nothing intrusive, just outstretched hands. I'm sure if you waved them away, no big deal.  Of course I take one.  Surprisingly, my husband does, too.
"Oh, very masculine," he says, slipping it over his head, not fussing just smiling.  He notices the colors:  his is green necklace beads with a red ball while my necklace beads are red with a green jingle ball.  We match, but opposite.
I ask the mom what's the deal?  Turns out she and her family–sister, aunt, goddaughter, daughter–have spread silly playfulness and jingle joy for three years.
"A few years ago, we had The Big Talk about Santa," she tells us.  "We decided to turn it into something positive, that we're all Santa's helpers and we have good in our hearts."
Is it just the holidays when we all feel good and happy and giving?
"Christmas," she says, "It's not just one person."