"The foot feels the foot when it feels the ground."~Buddha, Indian leader
When do you deserve to treat yourself?
I use bribery to motivate myself. If I go through emails, then I can spend time on Instagram. If I write or edit for 37 minutes, then I've earned the right to play with planning stickers. Much of this year, I haven't deserved the playtime that I've taken. Play is more fun than work, and without any steady work schedule, it's easy to be lackadaisical. Whatever I call the reasons for not working, they're all excuses. In acknowledging that, I'm kind to myself. Scolding me doesn't change the past.
An online challenge that I continually succeed and fail at but keep coming back to breaks down the year into three-month chunks. It begins on the first Monday in every quarter–January, April, July and October–and ends the last Wednesday of every quarter–March, June, September and December. Easy to remember, right? Yeah, that took me two years to get into sync.
Every quarter since I began A Round of Words in 80 Days, I learn more about myself. Entering this Round 4, I realize that I need to add playtime or relax time to my schedule. After all, play…what else motivates me?
With that introduction, welcome to October 2 through December 20.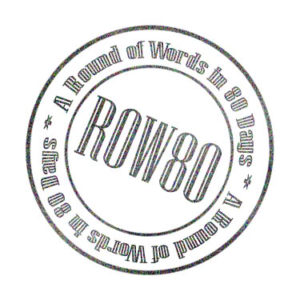 My goals for this last part of 2017 are: Reading, Writing and Playing. However, some writing and reading is too fun to be considered work. How do I justify that?
I have a great post written, but it's so detailed that it's overwhelming. I'm breaking it down over the next few weeks for me and for you. I want you to learn something from of my successes and struggles, something you can adapt into your life. We're all working together at this, and I want to learn from you, too.
These are my Round 4 ROW80 Goals:
WRITING
–Get back to haiku, at least one weekly.
–Finish MomMemoir and DadLetters by December.
–Blog posts–finish or let go. For real this time!
–Freelance assignments/Full-time writing work
READING
–Blogs
–Magazines: trade publications and PennStater
–Books
–Social Media
PLAYING
–PokemonGO
–Planning
–Scrapbook/Mixed media crafting
ETC.
–Housey things
–Friends and Family
Off we go into the Round 4 yonder.