If we were having coffee….
Grab a seat. This is one of the most comfortable Starbucks I've been in. Of course it's cold–every Starbucks in this universe is–but it blends spacious and cozy here. We've got plenty of time to chat uninterrupted, 30 minutes at least. *smile*  My husband's over there doing a Pokémon Lucky Egg, and I have this fresh Café Vanilla Frappuccino in front of me.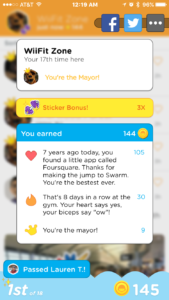 I met my Fitbit step goal everyday this week, but still came in third in my two Workweek Hustle challenges. Those other folks must never sit down! Humph. I feel good increasing my activity, regardless. There's always the rematch next week.
I celebrated my Swarm 7th Anniversary this week. I joined Foursquare, the original incarnation, on August 7, 2010. An overview of the new check-in map takes me down memory lane of my trips to Chicago, my 10th wedding anniversary in Disney, my NFPW awards conference in Alaska and so many more, events I remember, places I forgot. I love this app. What would I do without it?
My writing is going okay. I created a great outline of tasks to do this week, and I completed very few tasks on that list. I printed my DadLetters story, but I didn't edit it. Two items, and I only made the effort to do one of them. Granted, that's one more than doing nothing, but now I have to push it to this week, throwing off my other tasks. We'll see next weekend how that goes.
And you? What successes are in your life this week?