"Being cool is being your own self, not doing something that someone else is telling you to do."~Vanessa Hudgens, American actress
This year's A to Z Blog Challenge was just that: a challenge. I'm reading a lot of posts from bloggers reflecting on the success or failure of their efforts.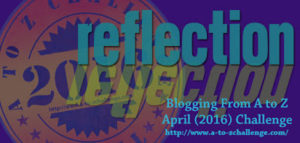 "It started feeling like work in the final few days"
"Helped me find back to my writing voice, grow as a person and gain more confidence"
"In terms of views, [April] was the 2nd best month so far"
"I am a better writer because of the discipline it takes to participate"
"This moment in time…turned out to be the most rewarding (and intense) experience in my blogging so far"
"I wish I had done differently is to have begun writing the posts much further in advance"
"It was fun and amusing…I didn't really achieve what I hoped to, and gave up an opportunity to do something that might have been better"
"The daily postings took their toll."
I agree with the last one, and all the others that struggled. I do not feel at all successful from this. I have reasons that could be excuses but are reasons.
I moved my WordPress blog to a self-hosted blog. I needed to do this in April for upcoming writing events, and the time it took to transfer and reformat and choose a new blog theme all occupied my could-be-blogging-AtoZ-posts time. It occupied a lot of my writing time, and just a lot of time. I have posts scattered between my old site and this one, which annoys me to no end. But that's a formatting issue to be dealt with–or not–at some future time. This blog is still a bit of a mush-mess right now; time and focus will fix that.
It's harder to write forced haiku than I thought. While Alphabet Haiku is a cute theme, some letters stumped me. Surprisingly, Q and Z came rather easily, but J and F challenged me. Thank you to all the online "Words that start with…" sites.
It took time to format the haikus as I wanted, more time than I expected. I insisted on creating graphics with various smartphone apps. Some days I spent as much time designing as I did writing.
Like many others, I planned to pre-plan. I did that for a few haiku, and then I slacked off for the above reasons. I'm committed to finishing this year's posts, so they will be sporadically published–or republished from my old WolfHowlings site–in the upcoming weeks.
I found a few blogs that I really enjoyed, and commented more than Liked because as a blogger myself, I appreciate the interaction more than a click. Likes are nice, don't get me wrong, but I wanted to form connections. I like to think I did. I couldn't connect on other sites–mostly Blogger sites–because those annoying prove-you're-not-a-robot steps slowed me down. That and there are too many white-text-on-black-background sites. Those hurt my eyes, and I closed those windows as soon as they opened.
I never did finish my "26 Ways to Procrastinate a writer" posts from 2015. Perhaps someday I will, although today it's easier to let go than it was on April 1st.
Everything that went right or wrong was out of the control of the hosts, so nothing to report there. The hosts did a fine job as I can tell, but the bloggers themselves made it easy or hard or fun or difficult. I include myself in that.
Will I participate next year? I don't know. I didn't need April to spark a regular blogging schedule; I have that well established. Doing AtoZ actually prevented me from catching up on or planning ahead for my regular posts. If nothing else, I may visit sites of participants.
You can read others' Reflections posts here and decide for yourself if this is something that interests you next year.