"Work hard for what you want because it won't come without a fight."~Leah LaBelle, Canadian musician
Wrapping up the Month of Little Things is a photo reminder of those precious moments. It's easy enough to do; there are a lot of phone apps out there for you to create A Picture A Day composite. I use Photo 365, because if your day is too awesome for one memory, this app lets you post more than one photo to the day, even though only one is visible on the calendar. I don't stress if I miss a day or three, but since I take so many pics and screenshots, I almost always fill a box.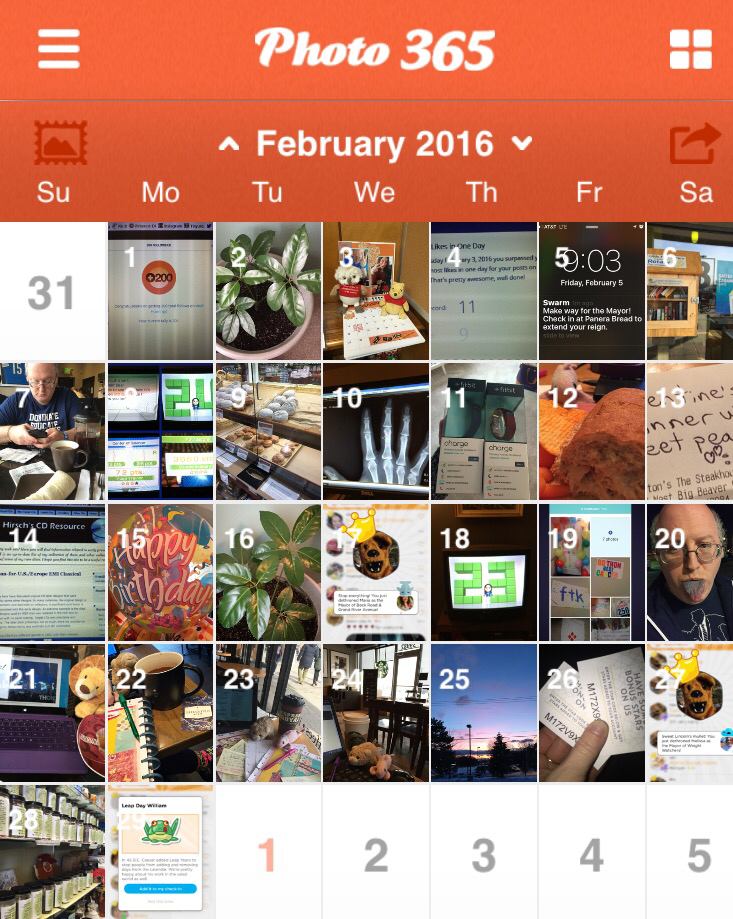 I spy a happy plant–Sprout is a baby tree, actually–WiiFitness activity, Swarm checkin moments and other celebrations. and coffee shops. Three days in a row writing in coffee shops
Speaking of writing, remember that brief tirade of stress yesterday about my contest and procrastination? I chose to cut one entry from the final submission package, which was, surprisingly, a good thing.
I posted a photo yesterday on Instagram of the holiday memoir I was working on. That's the one I removed from the contest submission. The writing of it was not a failure, it was not wasted time.
First off, that piece only somewhat fit the category requirements for Holiday Memoir. The event I wrote about did happen at Christmastime, but it didn't have anything to do specifically with the holiday. I liked that entry, but I found a better one from an earlier piece of writing that came from my journal. In fact, all three pieces were previous half-written material, but they fit the contest requirement because none of them have been published.
So that vignette didn't make it. Big deal, or no big deal. Does that leave me with another half-finished piece of writing? Absolutely. But now I have a piece that I can tweak into something else in the future. Besides, I would have had to do some serious editing to make that fit the required word count, and I was not prepared to do that. I let it go.
I had to edit the other three entries anyway, and I forgot how tough tight writing is. Every word occupies valuable real estate on the page. The word count for poetry was 100; mine was 85, cut down from 120 words. the Holiday Memoir category was between 200-400 words; I got mine down from 533 to 371 words. The First Page of a Novel had a word count of 250; I made it at 199 words. Since I waited until the 11th hour to submit–literally, about 11:30pm–there was no way I would've been able to do justice to make that 789 word moment into a cohesive, intriguing 400 word story. I cut it entirely.
When I wrote it, I expected to have a ruthless editing session to make it work, but by the time I got past the backstory into the actual event, it was a mess. It takes a talented writer to condense 400-ish words, chopping a piece in half. It also takes time. I have the talent but not the time.
Still, what made that exercise so good is that I was writing. I wasn't spending time planning or blogging or planning blogposts. I wasn't editing or rewriting or thinking about writing–I was writing. Not journaling; creative writing with a purpose. I felt free. I missed that feeling of initial creation. I've been so bogged down in external nonsense that I forgot to write for fun. That's one of my ROW80 goals achieved.